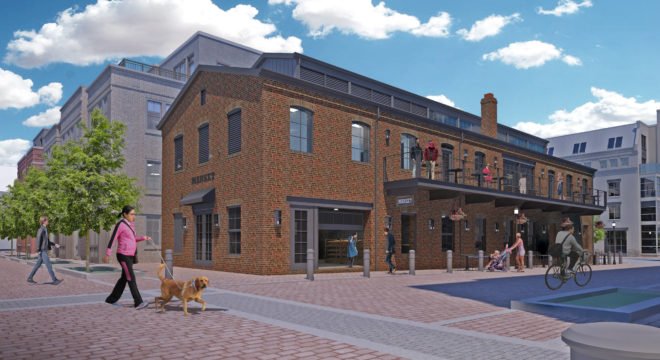 Local Developer Releases Plans to Preserve and Transform. Announces Name.
May 23, 2019 (Alexandria, VA.) – Award-winning Alexandria based developer and custom boutique builder, Murray Bonitt of Bonitt Builders, today released plans to transform and preserve one of Alexandria's last remaining waterfront warehouses, at 10 Duke Street located on the Old Town waterfront. The warehouse is a direct link to the commerce and industry that fueled Alexandria's economy since its founding, and Bonitt is excited to help bring the site back to life.
The warehouse served as a coopers shop, which made wooden barrels for the Alexandria Flour Company, at the adjacent Pioneer Mills. Around 1864 the building was used as a mess house and commissary by the Union Army. Bonitt points out that the building was once used as a place of comfort and food for weary troops, which will bring the building full circle when completed.
Murray Bonitt, a custom builder who specializes in historic preservation through adaptive re-use, is purchasing the property from 2 Duke Street LLC, an EYA LLC development entity. Bonitt and his firm is behind several notable preservation projects in Old Town such as restaurants Virtue Feed & Grain and The Majestic Café and is skilled in successfully re-purposing historic buildings as gathering places.
The 10 Duke Street warehouse site will be rebranded as "The Mill," a southern grocery and kitchen. The name is a nod to the flour mill it served with its barrel making for Pioneer Mill. The two-story 6400 square foot warehouse building will be renovated to operate a market and casual dining restaurant. The market will offer coffee, pastries, prepared foods, beer and wine for community residents. Bonitt plans to survey the residents of the SE quadrant of Old Town to see what they would like the market to carry, and he plans a vigorous carry out program for the restaurant which will be handled through the market for busy neighbors to pick up. The balance of the first floor will have a casual tavern feel to it with repurposed materials creating a warm rustic urban feel. Upstairs will feature an indoor fire-pit with sofa lounge, an open kitchen with seating, communal tables, a bar that opens to the balcony and outdoor seating. The upstairs will be designed for private events perfect for intimate receptions and parties.
The drawings for the project, which are being done in a collaboration between Virtue architect Maynard Ball, and local architectural firm Sanchez/Palmer, have been submitted to the City for a hearing scheduled to take place in July.
While the restaurant concept is still being developed, Bonitt envisions something similar to some of the culinary trends which have evolved in Charleston, SC. The culinary vibe will be "edgy southern" comfort food, which incorporates what Bonitt calls the Triple-A approach to hospitality: Affordable, Approachable and Amazing. "I want to make this the place in Old Town where residents can spill into two or three nights a week, see their neighbors, and enjoy great food in a great space," says Bonitt. As such he has consulted with longtime friend, Rick Jerue, chief of staff to the mayor of Charleston and founder and former executive director of the annual Charleston Food and Wine Festival, which helped put Charlestown on the food map as one of the best cities in the country for dining. "I am lucky to have Rick as a resource, and there are a number of great chef/operators he has sent my way who are very interested in coming to Alexandria".
Bonitt has received awards from the American Institute of Architects and the Historic Alexandria Foundation for projects involving the preservation and adaptive reuse of older industrial and commercial structures.
The project is scheduled to deliver in October 2020.
About Bonitt Builders
Bonitt Builders is an award-winning custom home builder and remodeler based in Northern Virginia. We are committed to delivering the highest quality to our clients.
Over the past 35 years we have assembled the most talented team of craftsman and subcontractors in the area to work on our projects, and that work has been recognized for its excellence by the American Institute of Architects, as well by national publications such as Custom Home Magazine, Town and Country Magazine, Home Magazine, The Washingtonian, and Residential Architect Magazine. Our portfolio of projects ranges from contemporary to traditional and speaks to the multiple talents of our team, staff, and all the wonderful people who work with us.